Article
Fall Risk in Seniors: Understanding, Preventing and Managing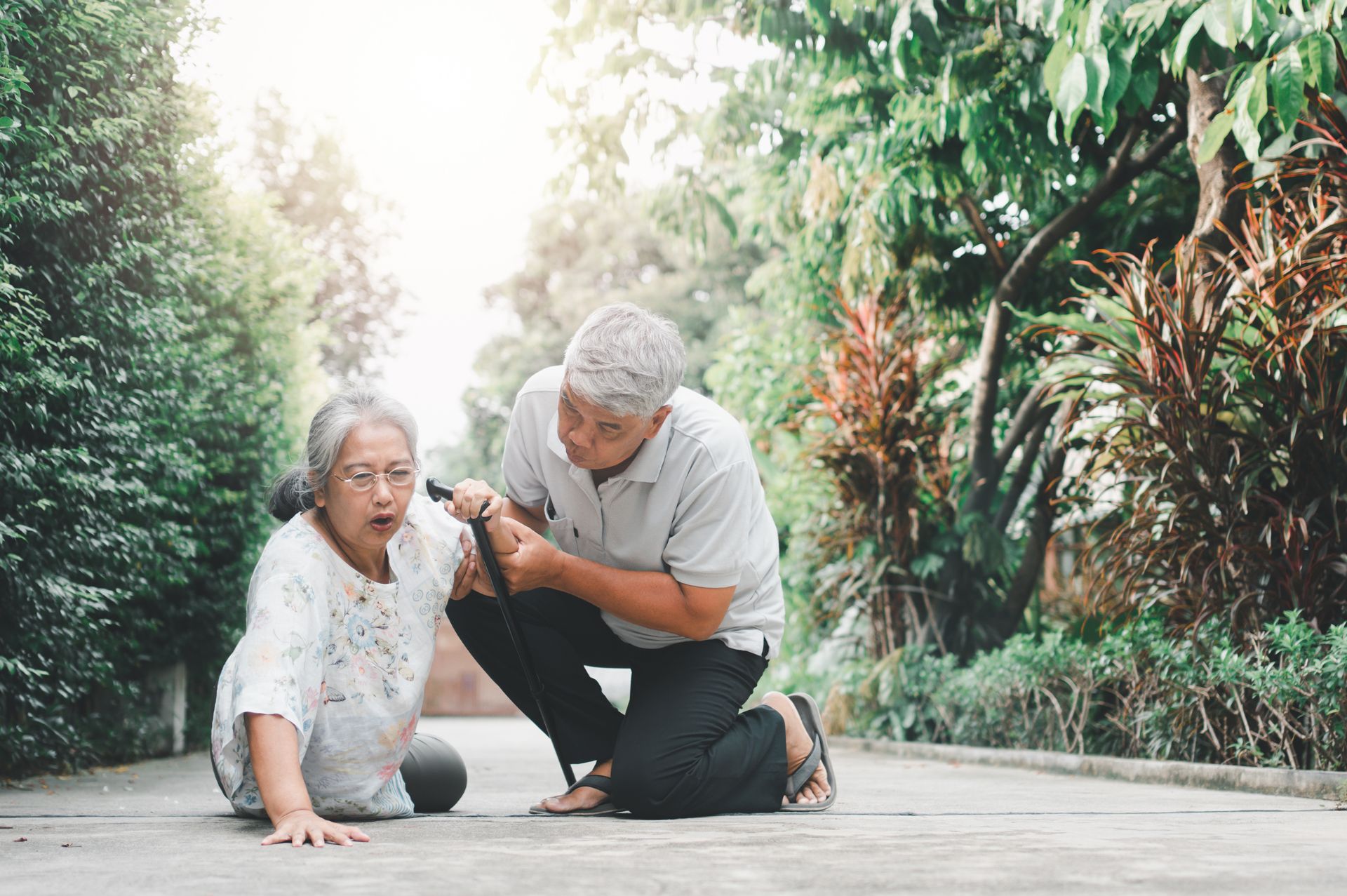 Health
Falls among the elderly are a significant global health concern that can lead to severe injuries, decreased mobility, and a loss of independence. Falls are one of the leading causes of accidental injury deaths worldwide. Understanding the causes and risk factors associated with falls is crucial in preventing them and promoting the well-being of our elderly population. In this blog post, we will explore the issue of fall risk in seniors, its causes, consequences, and practical steps to reduce and manage this risk.

The Gravity of the Problem
Falls represent a major health issue for seniors worldwide, and the consequences can be far-reaching. Here are some key points that highlight the gravity of the problem:

1. Increased Mortality: Falls are a leading cause of injury-related deaths among older adults globally. Each year, millions of seniors lose their lives due to fall-related injuries.
2. Injuries and Hospitalisations: Falls often result in injuries such as fractures, head trauma and sprains. Many seniors require hospitalisation, surgery or rehabilitation after a fall.
3. Reduced Mobility: After experiencing a fall, seniors may become less mobile and active. This reduced activity can lead to muscle weakness, further increasing the risk of future falls.
4. Fear and Anxiety: The fear of falling can lead to anxiety and a decreased quality of life. Seniors may limit their activities, social interactions and participation in enjoyable hobbies due to this fear.

Understanding the Causes
Falls in seniors can have multiple causes, and often, they result from a combination of factors. Here are some common contributors to fall risk:

1. Balance and Gait Issues: As people age, changes in balance and gait can increase the risk of falling. Muscle weakness, joint problems and sensory deficits can all play a role.
2. Medications: Certain medications can cause dizziness, drowsiness, or a drop in blood pressure, all of which can lead to falls. It's essential for seniors to review their medications with healthcare providers regularly.
3. Chronic Health Conditions: Conditions like arthritis, diabetes and cardiovascular disease can affect mobility and balance, making falls more likely.
4. Environmental Hazards: Tripping hazards in the home, such as loose rugs, clutter, poor lighting and slippery surfaces, can significantly increase fall risk.
5. Footwear: Ill-fitting or inappropriate footwear can contribute to falls. Seniors should wear shoes with non-slip soles and proper support.

Prevention Strategies
Preventing falls among seniors requires a multifaceted approach that addresses both individual and environmental factors. Here are practical strategies to reduce fall risk:

1. Stay Active: Engaging in regular physical activity, such as walking and balance exercises, can improve muscle strength and coordination.
2. Review Medications: Seniors should regularly consult with healthcare providers to review their medications for potential side effects that could increase fall risk.
3. Vision and Hearing Checks: Regular vision and hearing exams can identify issues that might affect balance and spatial awareness.
4. Home Safety: Conduct a home safety assessment to identify and address potential hazards. This includes securing rugs, improving lighting, installing grab bars in bathrooms and railings to staircases.
5. Foot Care: Proper footwear is essential. Seniors should wear shoes that fit well, provide support and have non-slip soles.
6. Nutrition: A balanced diet rich in calcium and vitamin D can help maintain bone health and reduce the risk of fractures.
7. Regular Check-ups: Seniors should have regular check-ups with healthcare providers to address health conditions and discuss fall prevention strategies.

Managing Fall Risk After a Fall
If a fall does occur, it's essential to take immediate action to manage any injuries and prevent future falls. Here are some steps to follow:

1. Seek Medical Attention: If a senior falls, it's crucial to seek medical attention promptly.
2. Assess the Home Environment: After a fall, reevaluate the home for any new hazards or areas that may need further modification.
3. Physical Therapy: A physical therapist can provide exercises and strategies to improve balance and strength, reducing the risk of future falls.
4. Medication Review: If a medication contributed to the fall, consult with a healthcare provider to adjust the dosage or explore alternative treatments.
5. Assistive Devices: In some cases, assistive devices such as canes, walkers or wheelchairs may be recommended to improve mobility and stability.

The Role of Caregivers and Family
Family members and caregivers play a vital role in fall prevention for seniors. Here are some ways in which they can contribute to their loved one's safety:

1. Support and Encourage Exercise: Family members can encourage seniors to stay physically active and accompany them on walks or exercise routines.
2. Medication Management: Help seniors keep track of their medications and accompany them to medical appointments for medication reviews.
3. Home Assessment: Conduct a home safety assessment and make necessary modifications to reduce fall risk.
4. Communication: Maintain open and honest communication with seniors about their fall risk and encourage them to report any near misses or balance issues.
5. Emergency Planning: Develop a plan for responding to falls or emergencies. Ensure that seniors have easy access to a phone or personal emergency response system.

Final Takeaways
Fall risk in seniors is a critical concern that requires attention and proactive measures on a global scale. Understanding the causes, prevention strategies, and steps to take after a fall are essential components of fall risk management. By implementing a comprehensive approach that addresses both individual and environmental factors, we can reduce the incidence of falls among seniors worldwide, thereby enhancing their quality of life, independence and well-being. Together, we can make a significant difference in promoting safe and active aging for our elderly loved ones.

ElderAid's specialized fall risk assessment service is designed to provide a comprehensive check in homes to find risky areas. Don't wait—prioritise senior safety with ElderAid today and call us at +91 81234 00400.

*ElderAid fall risk assessment service is only available in Bangalore for now.
---
Related Resources